Market Summary
Like many other markets across Europe, the flexible office market in Ireland grew steadily right up until lockdowns and work-from-home orders forced businesses to change how they work in early 2020. However, as pandemic restrictions end, the flex office industry is once again getting ready to cater to the wide range of businesses that need greater flexibility in their workspace.
As the name implies, "Flexible" office space is a tool businesses have at their disposal to manage costs during periods of rapid growth or contraction or just during uncertain times. As we've observed in other markets, when Covid restrictions ease, pent-up demand for quality flexible office space comes quickly. In our view, the demand for high-quality offices can be attributed to both greater affordability and businesses' desire to entice staff back to a great place to work, with an emphasis on collaboration and productivity.
And as businesses of all sizes adapt to a hybrid model for their teams, flexible workspaces provide a meaningful alternative to traditional long-term commercial leases. Rather than negotiating a three or five-year commitment, serviced offices offer six, twelve, or twenty-four-month terms to suit the needs of businesses facing rapid growth or uncertain times.
Not All Offices are Created Equal
When it comes to office space, there are many different factors that influence the price you pay. These factors range from the location of the office, building quality, and standard of fit-out as well as the amount of space needed for the way teams function and collaborate. As expected prices are higher in sought-after areas like Dublin-2 with premium addresses and high-quality fit-outs.
If you're looking for flexible office space for 50 people or less, there are hundreds of turnkey private offices across Ireland with Dublin.
A key starting point for many businesses is budget and the Rubberdesk research team has compared the major locations to look at the median office rate per month per person. Using the Rubberdesk platform and examining real-time availability and pricing we are able to bring together the most thorough comparison possible. Here is where businesses can compare the entire market from Dublin 1 to Dublin 4, Cork, and Limerick.
At a macro level, the median desk rental price across Ireland is €587.00 for a private office and €308.00 for a coworking desk in a shared space.
Median Office Rate Per Person
Median Coworking Desk Rate
Flex Floorspace Available (sqm)
Available Desk Capacity
€587.00
€308.00
19,600
3,920
Prices and availability effective January 31, 2023
While these prices and capacity give you a sense of the total market, it's important to break down each city to get a true sense of cost and availability, as prices vary considerably by location. As the chart below shows, Dublin is the most expensive per desk/person per month for private office space with Limerick and Cork offering more affordable options.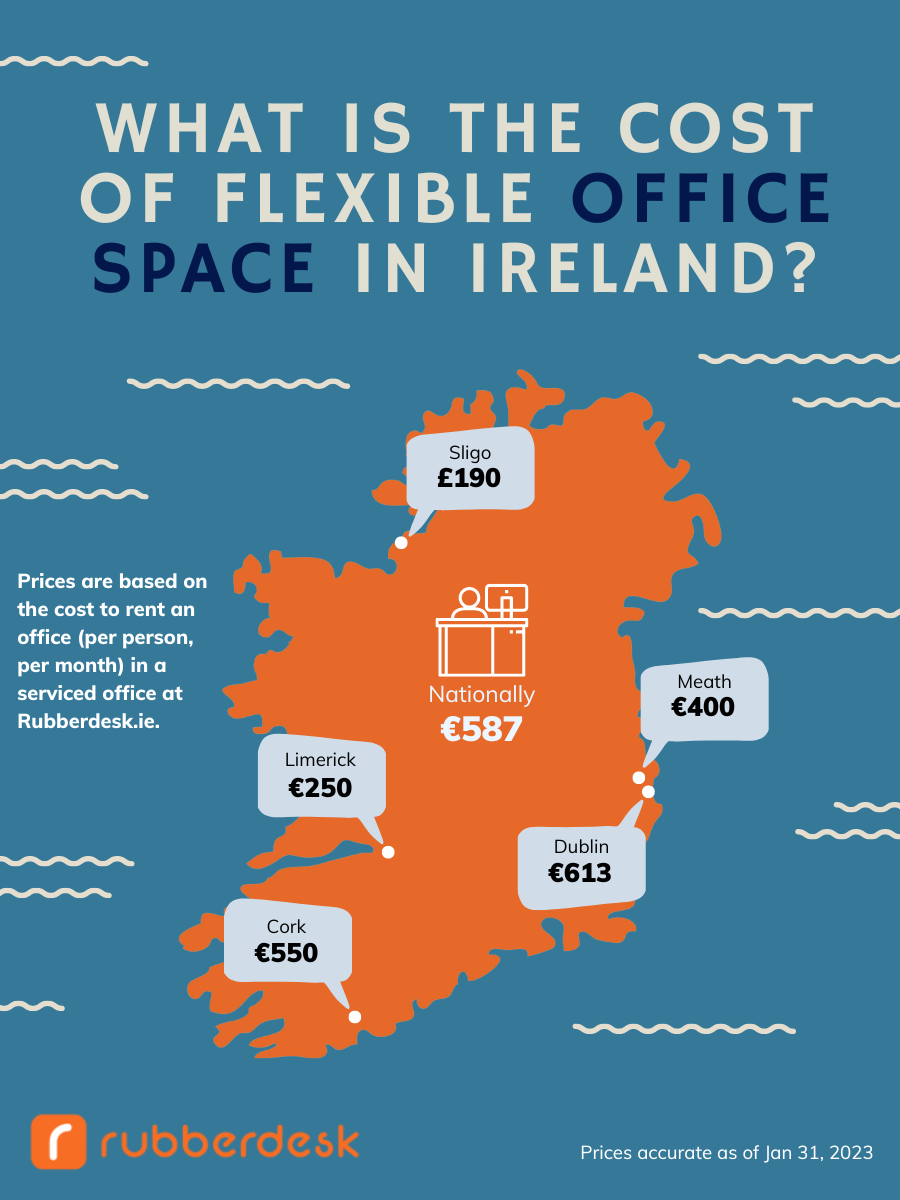 The infographic above compares the median price per person per month for flexible office space in major cities across Ireland as of January 31, 2023. Source Rubberdesk real-time availability.
The below report drills down into the detail of the office spaces available and provide the most comprehensive and up-to-date analysis of Flexible Office space anywhere. We've analyzed every office available across Ireland and used Rubberdesk's real-time availability and pricing to build the most accurate picture of the Flexible and Serviced Office market. And because Rubberdesk has thousands of hosts listing their office space for rent, it's the best place to compare the market.
So, here's what we've looked at:
Rubberdesk is 100% free to use
Search, tour, book & get confidential expert advice for free and with no obligation.
Or Call (01) 539 5759
For any type of office, whether in a converted warehouse or a premium office building, location often dictates the price. When we dive into the data, key suburbs in Dublin like the CBD are by far the most expensive areas in Ireland to rent office space. If budgets are tight as they are for many startups and may well be for many other companies as they return to the office post-pandemic there are plenty of locations in other suburbs and regions that can save thousands per month. In markets like Cork, increased demand combined with low supply has driven prices up twofold from early this year and now surpasses the median rate in Dublin.
Up until 2008, most commercial rental agreements were conducted on a fixed yearly basis for 5 to 10 years forcing companies to lock into long-term arrangements that may or may not fit the growth plans for the business. If a business grew or shrunk, it was at the mercy of breaking a contract or lease re-assignment. The past two years have shown how even the best-laid plans can go awry and in times of great uncertainty, short-term rental commitments are proving advantageous to businesses.
With the explosion of the startup ecosystem and the coinciding growth of coworking and serviced offices, flexible terms became popular for many small businesses that didn't have the budget or inclination to be locked into a long-term lease. Today, businesses of any size, from one to a hundred-plus staff have the option to sign more flexible agreements for a year at a time. This means that now, for the first time, the duration of tenancy commitment can match the certainty each business has about its plans and fit its immediate need with room to grow, resize or even relocate as required. For those businesses facing too much uncertainty and risk, there are even month-to-month agreements available for both coworking operators and traditional businesses who have spare office space to rent.
Flexible office spaces provide a lot more flexibility with their payment options, minimizing the upfront costs normally associated with fit-out and furnishing as well as smaller bonds than are typically required by lease agreements. Month-to-month agreements offer the most flexibility but also come at a premium of anywhere from 10-20% for the ability to terminate at the end of the current month. As might be expected, a longer-term commitment tends to attract the biggest discounts with 12 months being the sweet spot. In fact, right now we're seeing deals offering 40% discounts when signing a 12-month agreement to entice companies back after the pandemic.
As the Flexible and Serviced Office market has grown, so too has the choice available to tenants. Now the market offers everything from premium-grade buildings with funky fit-outs and access to shared facilities and services to more budget options. We have a plethora of options available from fully-managed office operators including local boutique operators such as The Tara Building and Pembroke Hall to large internal players such as WeWork and Regus (owned by IWG) and everything in between including operators like Iconic Offices and Prosperity Chambers. From desks and chairs to printing and amenities such as showers and bike racks, these fully managed operators provide everything you need at a single monthly price with the option to add more desks or downsize the space as needed.
Commercial office space on the other hand generally requires a much longer commitment (often 3-10 years) and comes with extra costs such as furniture, electricity, IT, maintenance, and cleaning. In addition, a traditional lease often includes costs for space you never end up using such as the lobby.
It's fair to say that the comparison of Managed Flexible Office Space to traditional Commercial Leases is like comparing apples and oranges. There are a number of differences between the two and each wins in its own regard. We'll save a comparison of the relative merits of each style for another time.
Though many coworking operators have rates specifically for a single desk in an open plan space available, these generally represent less than 5% of the available spaces. Private and customised offices make up the vast majority of Flex space rented. These private offices typically share communal facilities such as meeting rooms, bathrooms, and kitchen areas but are self-contained and fully serviced.
When looking at office size, the smaller private spaces of fewer than 10 desks account for 71% of all available space. This is somewhat in response to the demand for smaller private spaces by businesses that are looking for safe places for their employees to work away from HQ or home and with new physical distancing guidelines becoming the norm, we expect the operators to alter open plan coworking spaces into more private small offices.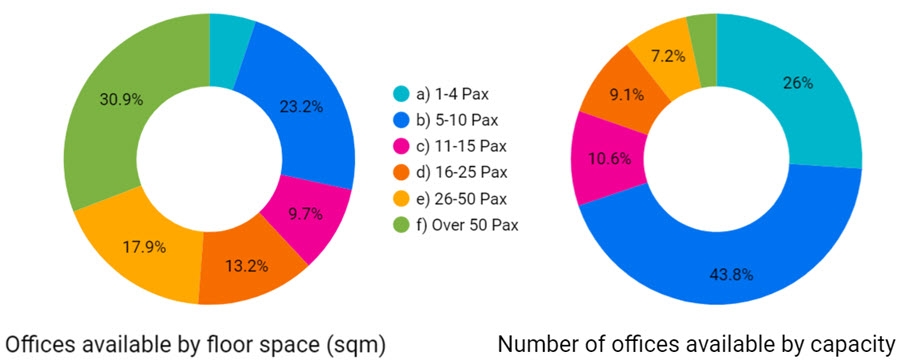 The charts above showcase the amount of floor space and individual offices available by office size as a percentage across Ireland as of January 31, 2023. Source Rubberdesk real-time availability.
Though larger offices for 50-plus people make up only 3% of the available offices, they represent 31% of all available floor space. Depending on where demand sits moving forward, these larger offices of course could be carved into smaller spaces like we've seen over the past year (as the percentage of larger offices fell from 6 to 3%) emphasizing the flexibility of modern office space in this sector.
Prior to the pandemic, flexible desk space was a popular choice for many individuals looking for a place to work, though they quickly lost favor as businesses and coworking operators reacted to the changing demand brought on by social distancing guidelines and the need for private spaces.
However, as Covid-19 restrictions have come to an end, demand for different workspace types is once again evolving. in a recent survey on 2022 coworking trends, DESKMAG found that coworking and serviced office operators have noted an increase in demand for flexible desks with demand now back in line with individual offices. Not surprisingly, DESKMAG found that demand for team offices outweighed both flexible desks and individual offices as larger businesses that have been fully remote start to plan for the future of a more hybrid workplace. And as business sentiment continues to improve, we expect demand for larger offices to outstrip other types.
The results are based on the question: "How do you rate the current demand for the following offerings in your region." Results of the Coworking Trends Survey from Nov 23 - Dec 22, 2021.
For traditional office leasing, rent is calculated based on the annualised price per square foot and multiplied by the size of the space to give a net annual rent. On top of the rent, there are also outgoings and taxes which must also be paid by the tenant. For a prime CBD 70 sqm unit with a €645 sqm net rent, the monthly rent for an office in the Dublin CBD comes out to €3,762 per month (70 x €645 / 12 + VAT), on top of which are outgoings for building management, electricity, Internet, etc, which are not always fixed.
By contrast, the flexible office space calculation is much simpler and typically based on the desk capacity of the office. If for example, each desk in private office costs €560 per person, the cost for a 6-person office is simply €3,360 (€530 x 6 = €3,360 per month + VAT). Flexible office rental typically includes credits towards meeting rooms and printing facilities, but for heavy users of either, there are options to have these services included. Of course, in addition to the office space and desks comes access to common areas such as kitchens, meeting rooms, washrooms, and other amenities such as showers and even secure bike racks.
It's important to note that traditional office rent does not cover the fit-out, desks, or any amenities you want to offer your staff. In addition, you may be paying for excess space that you don't need. Whereas a flexible office space gives you the opportunity to only pay for what you need and numerous amenities that would otherwise not be economical or feasible in a small traditional office setting.
Tell us how we can help
We cover the entire serviced office market so you can find the best option.
Or Call (01) 539 5759
The cost of office space varies by location, amenities, proximity to transport, terms, and economic factors. So when looking at the cost of office space it's important to look regionally to get a better sense of what you might be paying in your location. Additionally, office space is often priced according to the relative supply and demand in the market at any particular time. This is why Flexible and Serviced Office space can be more volatile than direct leased space, and why it always pays to use a broker to find the best deal in the market at any time (Ed- That's where Rubberdesk helps tenants to find the best deal!). A good example is Cork which has more than doubled in price since the start of 2022 as demand has outstripped supply.
Typically, the cost of office space for a smaller team is cheaper for teams under 25, though this will vary by city depending on the number of spaces available. The higher price range for a 50+ office is a reflection that it may encompass one or more entire floors with private meeting rooms, kitchens, and even amenities such as private break-out spaces or dedicated access.
Nationally, a small office for 1-4 people has a median rare of €525 per desk per month while a larger office for a team of 16-25 tops the scale at €685 per desk.

The chart above displays the median price of office space across Ireland by office size as of January 31, 2023. Source Rubberdesk real-time availability.
When it comes to the Irish market though, higher prices across the Dublin CBD skew the median national price. Therefore it's important to break out pricing for Dublin when comparing it to other areas across Ireland. As shown in the table below, prices in Dublin range from a median low of €600 for a 1-10 person office to €725 for a 50+ person office. These prices are more than double the median price for Limerick and Meath with prices in both cities ranging from a median rate of €250 to €400 for teams of 2-25 people.

The chart above displays the median price of office space across Dublin by office size as of January 31, 2023. Source Rubberdesk real-time availability.
The data presented throughout this document is based on the median prices available for offices of different seating capacities, 1-4, 5-10, 11-15, 16-25, 26-50 & 50+ private offices available in locations around Ireland. While the prices for most large cities will encompass hundreds of options for each office size, smaller cities may have fewer options available depending on the number of operators and little or no options available for some of the larger office sizes.
At a city level, Dublin accounts for over 90% of the flexible office space in Ireland followed by County Meath, Limerick, and Cork. When it comes to price, it's no surprise Dublin is also the most expensive per person per month for private office space.
| City | 1-4 Desks | 5-10 Desks | 11-15 Desks | 16-25 Desks | 26-50 Desks | 50+ Desks |
| --- | --- | --- | --- | --- | --- | --- |
| Dublin | €600 | €600 | €650 | €700 | €660 | €725 |
| Cork | €330 | €550 | | €330 | €625 | €86 |
| Meath | €445 | €360 | €328 | | | |
| Limerick | €250 | €250 | €250 | | | |
| Sligo | €190 | €190 | | €190 | | |
The table above displays the median price of office space across Ireland by office size as of January 31, 2023. Source Rubberdesk real-time availability.
Find a Flexible Office
No lengthy lock-in contracts makes your office as flexible and dynamic as your business.
Or Call (01) 539 5759